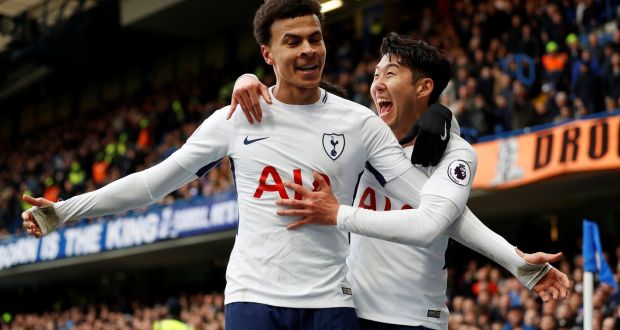 The Reigning Champions Chelsea have lost one of their proud records against Tottenham Hotspur yesterday.The high flying Tottenham who came to Stamford Bridge to win against Chelsea for the first time in Premier League history was achieved as they won 3-1 against local rivals Chelsea.
The game was a main event of the game week 32.Both the teams were fully prepared for the game and even the fans were having a debate who will win the game tonight.But Tottenham came on top of Chelsea.
The game started and The Blues were looking sharp and after 15 minutes remaining of first half Alvaro Morata scored a header and make the lead for Chelsea. But it was not stopping here, Tottenham's Eriksen scored a beautiful goal outside the box and made it 1-1 before the first half.
The second half showed some hunger from both the teams but Tottenham's Dele Alli scored a goal in the 62nd minute and made it 2-1 for the away team. After some minutes due to some defending error, Chelsea was punished again by Dele Alli and the scoreline became 3-1 in favor of Tottenham.
The game ended Chelsea 1 – 3 Tottenham. And the long history of 28 years of never losing to Tottenham on their own home soil was down and dusted.It was a horrible day for the Chelsea fans and a day to be celebrated for the Spurs fans all over the world.
Now The Blues sit in the 5th position below Tottenham with 8 points gap.Looks like Champions League spot is also far Chelsea looking at their performance lately.
Can Chelsea recover at the closing of the season and book their Champions League spot? Or is it Tottenham who will not be looking to bottle up their Champions League spot and prove consistency. Let's have your opinion below in the comment section.