Another fixture which people were talking about was Sevilla vs Bayern Munich. Though Bayern has traveled to many cities of Spain to play the game, its the first time they were visiting Sevilla's ground to play the game. It was an interesting quarter-final tie between two teams.
Bayern Munich started with a nice composure and controlled the early minutes. But Sevilla was not giving back they started pressing and they came in control and almost in the 37th minute they got the goal they deserved.Sevilla continued to control the game, hitting Bayern on the counter and pulling defenders out of position with Joaquin Correa particularly impressive, if not for a couple of poor final decisions made with the ball.
And it was time the German Giants need to pull back one with an own goal from Jesus Navas which was a strike from Frank Ribery and with a massive deflection went to be a goal.
The Germans had many possessions throughout the game and most of the shots too. Sevilla was trying to hurt the German giants on the counter-attack whenever they got the ball. Bayern was solid in defending so Sevilla couldn't hurt much to them.
Bayern gradually began to awaken from their slumber and, after steadily building up the pressure. In the 67th minute a header from Thiago Alacantra was also deflected and went into the goal and the scores were 1-2 in favor of Bayern Munich.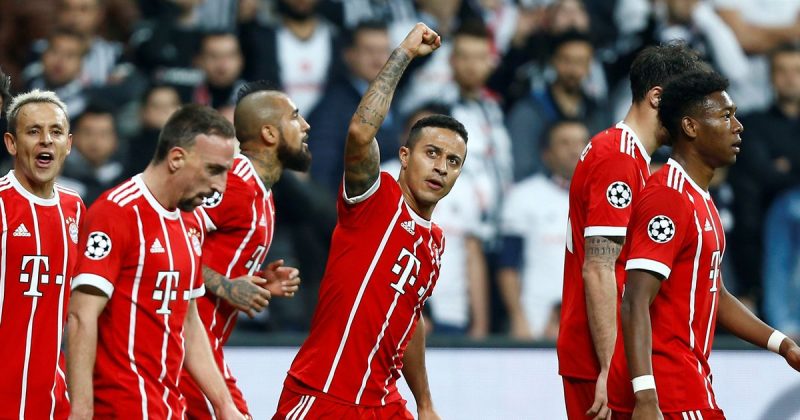 Bayern holds the lead to the full 90 minutes of the game and got two away goals and will be looking to add more when they play in their home Allianz Arena in the reverse fixture.Bayern will be looking to go through the semifinals of the Champions League.
Yesterday's game was a record-breaking stats for the Bayern Boss Jupp Henyckes is the first coach to win 12 consecutive games in the history of the champions league. He is definitely a legend for the club.
Will Bayern reach semifinals or can Sevilla pull back some comeback games the history of champions league has seen? Have your opinions below in the comment section.