A lot of people still ask me how to create a blog on different platforms to get started; So in this article, I'm going to show you, how to make a blog step by step under Blogging Tips tutorials series; (A. 01 – A = Article 01)
You will get weekly blogging tips, from how to start to how to make money and do it professionally; I'm not going to explain all here because I will show you more in practical format so, make sure you do your own research as well; So that will help you understand things in a better way;
Blogging gives you the option to share your opinions and thoughts directly through your web journal or platform which is known as a blog;
Click To Tweet
Let's get started with the blogging tips and tutorials;
How to Create a New Blog on Blogger
This is the section where you will learn how to create a blog on blogger platform or normally you can say on a blogspot.com; It's really simple to create a blog on blogger;
First of all, you need to have Gmail or Google A/C to create your blog on Blogger platform.
Now after that go to Blogger.com and sign in your Gmail account.
Finally, you will get blogger dashboard from where you have to create your new blog. It's simple to create a blog on blogger because you are not getting huge features that may confuse you.
Here you have to Enter Your Blog Title and Blog URL and finally click on Create Blog button. That's it.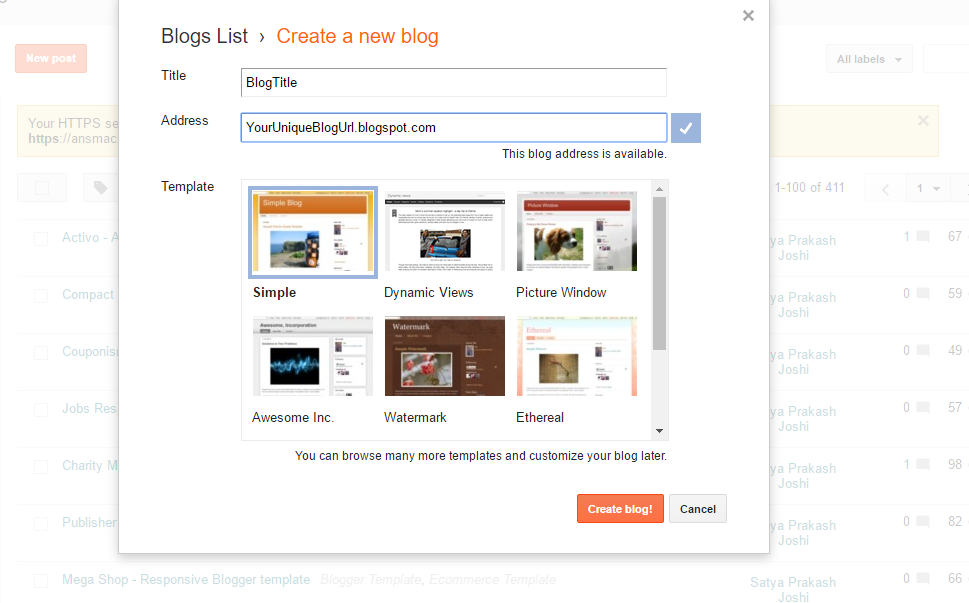 Finally, you own your personal blog on blogger. It's time to prepare yourself for blog publishing.
That's it, those are the few steps to create a blog in blogger platform; It's so simple and easy; Blogger is one of the most popular and widely used platforms by online writers and bloggers as we can say;
How to Create a Blog Using WordPress
WordPress.com is widely used blogging platform because it's more flexible than Blogger and better in terms of blogging features; That WordPress.com has some limitations but still, most of the people prefer to use WordPress instead of Blogger;
First of all, you need to go to WordPress.com, where you will see Get Started button; As you click on that button you will get a form where you can fill the details to create your blog;
There are 3 basic steps to create a WordPress blog, just give the blog name with the necessary details and
As you fill the necessary details you will get an option where you have to choose your Blog's Unique URL;
As you can see in the above image, there is a free option where you can select to create your blog; But still, I would like to recommend is that you can go with the proper domain and cheap hosting;
After selecting the plan you have to pick the plan which is suitable for your blog; If you can invest certain amount then define the budget and choose the plan for better blogging experience;
Note: On a Free Platforms Like Blogger, WordPress, Tumblr you will get your blog on a subdomain, which will look bit professional if you see as a career wise but to get started it's better to get started with subdomains;
How to Create a Blog Using Tumblr
If you don't know what is Tumblr then it's one of the most popular Microblogging platforms, which gives you a platform to create a free blog and you can share your things on Tumblr with your audience; It's really simple to create an account on Tumblr, just go to the website and sign up;
First of all, you have to visit Tumblr.com, and there you will see Get Started button to create a blog on Tumblr; Just click on that and you are good to go;
As you get started you have to fill up the form for signing up and you will get a confirmation email and you are good to go with publishing and creating your own blog through Tumblr;
Furthermore, you can manage everything from the Tumblr dashboard, where you will get a setting and managing option for your blog;
Wrapping it up
These three Blogger, WordPress and Tumblr are one of the most popular platforms for creating a free blog; We will discuss more tips and tricks along with marketing aspects of blogging in upcoming tutorials series;
Make sure you stay tuned to our website for more updates on blog marketing, content writing and ideas and stuff; We will try to cover every aspect of blogging;