No doubt Medium is one of the easiest and free blogging platform for writers, bloggers, journalists, and experts. I would like to consider it easiest because it's very simple to join, write and share.

Medium is an online publishing platform which was launched in 2012 as a community for bloggers, writers & Journalists.
Why Medium is the Easiest Free Blogging Platform
Pricing of Medium
In a single term, it's absolutely free for everyone.
It was launched as a social networking site with limited features and along with community platform for their subscribers. Though it has two sides firstly you can freely join this platform and another is a premium version where you have to upgrade to get some more features where you can apply or earn money and much more.
Let's explore some features of Medium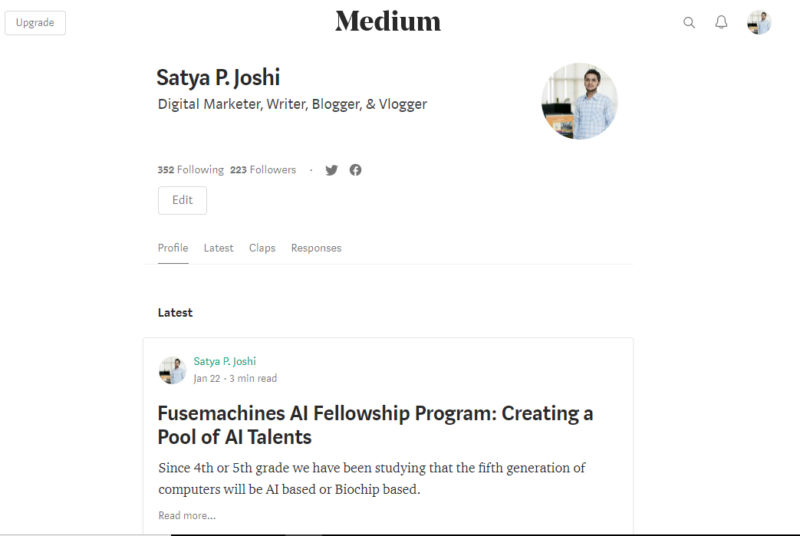 Its design is really simple, you can see above image that's my profile where I can see some stats like followers and follow along with that my profile picture and bio and social media bookmarking links as well. The minimal design of Medium makes it more attractive and user-friendly to use.
More there you will get the response on the articles that you wrote on Medium, claps which means likes and latest articles that you have shared.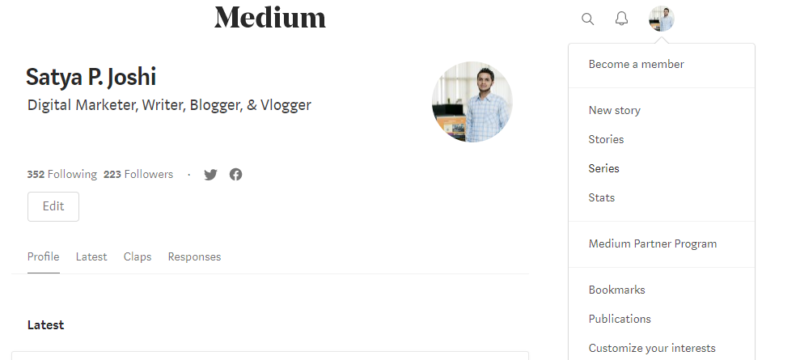 To be specific you will also have options to share your stories those you have published outside of the medium and even you can create series if you are a tutor or a story writer. There are lot more options like bookmarks options as well as stats and medium partner program for rich features.
Can we make money from Medium? 
"YES", you can earn money using medium community but for that, you need to upgrade your account. On a free medium account, you don't get that option to make money from Medium.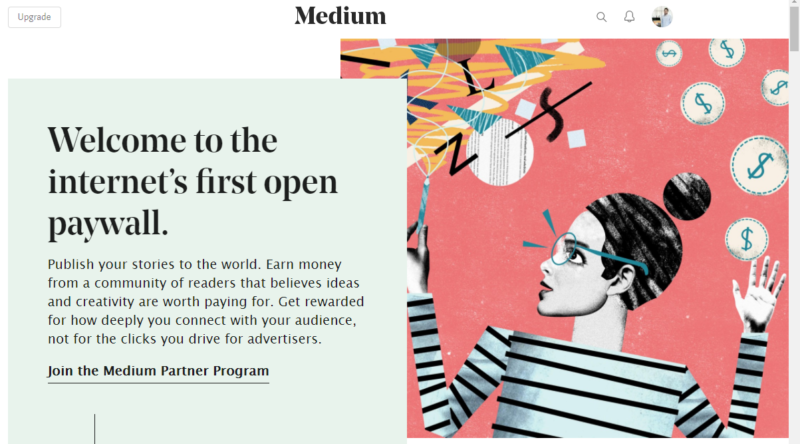 A detailed review of Medium is just below the review section check that out as well, I've shared some pros and cons related to Medium.
What if you are business? Should you it use or not?
Before you get into this answer just check out the pros and cons to understand it in a better way.
Pros.
Medium is easy to use, with no setup required and no coding skills needed.
It allows you to reach an existing online community of people of similar interests.
You can focus solely on writing, instead of designing a website.
Cons.
Features are very limited in terms of design or building a brand.
Medium owns your audience, so losing your blog means losing all your followers.
You cannot run your own ads to make money.
If you own a business and you want to business with the help of website then Medium is not the right place for you. It's because it's not a customizable platform like a WordPress or Joomla or Drupal or WIX or a Blogger.
You can use Medium to promote your websites or blogs or articles but not for creating a separate website using it. Medium owns everything that you have on your account. And they don't have a feature to give you a dedicated customized website or hosting space.
So you should consider platforms like WordPress as one of the best platforms to create a website for your business.
If you are a newbie and want to have a blog but confused at the point which to choose then here is the list of Top 5 Best and Free Blogging Platforms. Just check those out and make yourself clear before choosing any platform.
Overall Free Version - 8
8
This above rating is on the basis of the free version of Medium and that's my personal view, I loved Medium and it's simple and simplified design over complex platforms. There are many pros and cons that Medium has, I've mentioned some of those above.