Reviews
Samsung Galaxy S21 vs Apple iPhone 12 Pro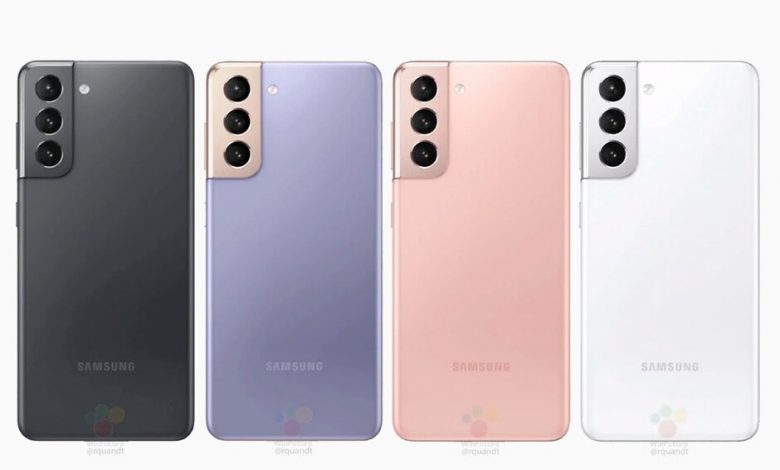 We may earn a commission if you make a purchase from the links on this page.
Samsung pulled forward its Galaxy S21 series Unpacked announcement for several reasons, chief among which are entering the fight for Huawei's market share carcass at an early stage and to preempt the iPhone 12 models from hijacking the whole Q1 sales season.
Yes, the first 5G iPhones were released much later than usual, and their peak sales period will spill way into 2021, so Samsung had to counter Apple's 5G onslaught with an answer to each and every member in the
iPhone 12
range. Well, save for the
iPhone 12 mini
, of course, which doesn't appear to be selling that well to begin with, as Apple may have misread the market desire for tiny handsets in 2020.
Samsung Galaxy S21 vs iPhone 12 Pro price, colors, and storage
$899 (128GB) vs $999 (128GB)
Grey vs Graphite
Violet vs Pacific Blue
White vs Silver
Pink vs Gold
As you can see, from a pricing standpoint the fight is absolutely fair, since both phones are starting from the same base position. Apple improved the storage amount you are getting for a grand this year, lining it up with what Android phones are offering at this price tag.
As far as colors go, the Galaxy S21 is arriving in four colors at launch – gray, pink, violet and white – that are pretty different from the iPhone 12 Pro's Graphite, Pacific Blue Silver, and Gold hues. The S21+ will land in black, as well as silver and violet (pink in Korea), while the S21 Ultra isn't mixing its black and silver models with anything, just like its predecessor.
Knowing Samsung, however, pretty soon there will be a St Patrick's day green edition, a 2021 Olympics model with golden rings, and red S21 versions for the holidays. We kid, but not by much, as you can see in the leaked color schemes below, as leaked by
Ice Universe
.
Red Galaxy S21 and Titanium S21 Ultra are in the works, too
Samsung Galaxy S21 vs iPhone 12 Pro display size and specs
6.2″ FHD+ static 120Hz vs 6.1″ 1170p 60Hz LTPS flat displays
5nm Snapdragon 888/Exynos 2100 vs 5nm Apple A14
Integrated vs standalone 5G modems
8GB vs 6GB RAM
The display size of the Galaxy S21 is slightly larger than on the
iPhone 12 Pro
, hence the phone is slightly longer, but thanks to the tall aspect ratio it isn't wider, and that's the metric to watch when it comes to one-handed usage. Moreover, Samsung offers more screen real estate, as there is no unsightly notch at the top, just the front camera opening pierced into the screen in a so-called Infinity-O design.
As for advantages under the hood, Galaxy S21 is powered by the newest
Snapdragon 888
in the US which may not beat Apple's A14 in raw benchmarks, but has the exciting advantage to ship with a
fully integraated 5G modem
, as opposed to Apple's tack-on modular solution that is a battery hog. Consequently, Qualcomm boasts up to three times performance per watt improvement when compared to the Snapdragon 865 in the S20.
The 888 chip features the Kryo 680 CPU which Qualcomm says is 25 percent more powerful and 25 percent more power-efficient than the previous generation. The primary core is based on Arm's Cortex-X1 design and it offers maximum clock speeds of 2.84GHz. It is accompanied by three Cortex-A78 cores and four Cortex-A55 cores, and the chipset is able to sustain the following features without a whiff of throttling, says Qualcomm:
5G modem integration (longer battery life)
5nm Qualcomm X60 modem
6th generation AI engine on a new Hexagon processor
Fastest Adreno GPU graphics rendering on a Snapdragon ever
35% faster image processor (120 pictures per second at 12MP)
The Galaxy S21 benchmark with it shows a somewhat middling performance due to the fact that it's been carried out at the 1.8Ghz speed of the A55 cores on an engineering prototype, yet the
Geekbench listing
confirms that, first, S21 will indeed land with said processor, and, second, it will come with an 8GB RAM base version, just like its predecessor.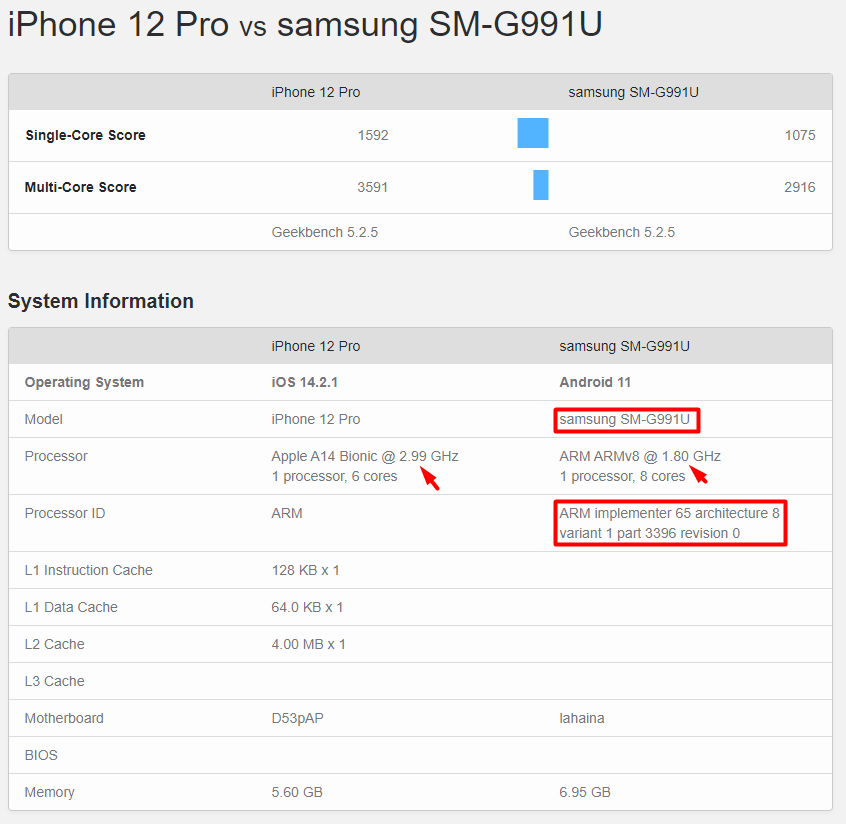 Galaxy S21 at 1.8GHz vs iPhone 12 Pro at 3GHz chipset benchmark listing
Samsung Galaxy S21 vs iPhone 12 Pro battery life and charging speeds
4000mAh vs 2815mAh
45W vs 20W wired charging
25W vs 15W wireless
Unfortunately, Apple downsized the iPhone 12 Pro battery a bit, compared to its 11 Pro predecessor, but compensated with the diminished power draw of the new hardware, so it cites the same battery life. Samsung didn't touch the Galaxy S21 battery one iota, and it ships with a much larger, 4000mAh unit, when sized up to the underwhelming 2815mAh pack of the 12 Pro.
The S21, however, also sports a modern 5nm chipset and 5G modem hardware, plus a likely more frugal high 120Hz refresh rate mode, so it has a longer battery life than its predecessor. Running the display in a 60Hz or adaptive refresh mode results in even better battery endurance, too, matching or surpassing that of the iPhone 12 Pro.
Samsung Galaxy S21 vs iPhone 12 Pro camera comparison
12 MP main sensors
64MP vs 12 MP zoom camera
12MP ultrawide-angle cameras
Don't let the high megapixel count of the Galaxy S21 zoom camera fool you, it's actually the iPhone 12 Pro that features the higher true telephoto zoom range of 2.5x. The Galaxy S21, just like the S20 before it, lack a periscope or telephoto zoom camera.
They use a 64-megapixel secondary camera for the prupose, and Samsung itself admits that what it calls a "telephoto camera" actually sports a lens that is very much wide-angle, almost as wide as the lens on the main camera. The "telephoto" lens only provides a 1.06 zoom compared to the regular camera, so all the zooming is actually almost entirely based on software – cropping and merging with the information from the main sensor. The end results are satisfactory, though, so no complaints.
When it comes to video recording, the iPhone 12 Pro has a leg up before the S21, thanks to its powerful image processor that lets it record the whopping 60fps Dolby Vision 4K HDR video, and display it on the the iPhone's screen in all its glory but the 4K definition, of course. It is still 10-bit HDR footage, not 12-bit Dolby Vision but it's still an impressive feat to achieve, and a heretofore prerogative of expensive $2k+ standalone cameras.
On the other hand, the Galaxy S21's Snapdragon 888 chipset means it is able to pull off 8K video at 30fps, for those of you who care about such high-def video that will be mostly a pain to upload and watch anywhere in full bloom. The same can be said for the iPhone 12 Pro's 60fps Dolby Vision HDR recording, though, so we can call it quits in the camera department.