Reviews
Samsung Galaxy S21 vs Google Pixel 5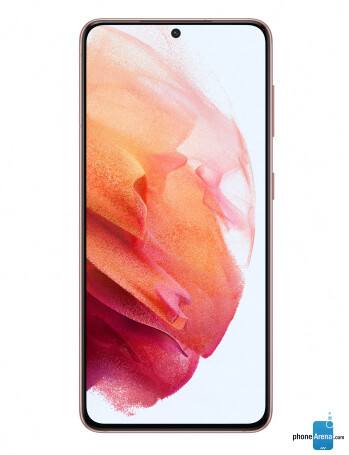 We may earn a commission if you make a purchase from the links on this page.
This is only a theoretical comparison, when we get the Galaxy S21, we will test it and we'll update with our tests and image samples.
The
Galaxy S21
series just got announced: the stunning S21 Ultra, the powerful S21+, and the smallest-but-not-weakest S21 are now official. The smallest flagship, the Galaxy S21, equipped with a Snapdragon 888 processor, is now ready to take on the market. The Google
Pixel 5
, on the other hand, is not exactly a flagship device, however, it does boast Google's exceptional image processing software for great photos and many other software-related pros.
Although the base Galaxy S21's price is higher than the Pixel 5's, we have seen great discounts on Galaxy models, so with a discount, its price may become more or less the same as the Pixel 5's current price. Therefore, a comparison between the two may be interesting if you're possibly considering buying one of those two phones. Here, we compare the base Galaxy S21 and the Pixel 5 in several different categories: design, specs, cameras.We have already made comparisons between the Galaxy S21 Ultra and the iPhone 12 Pro Max, as well as between the Galaxy S21 vs Galaxy S20, so if you're interested, do check them out as well.
So, without further ado, let's observe the differences and similarities between the Galaxy S21 vs Google Pixel 5.
Jump to section:
Samsung Galaxy S21 vs Google Pixel 5: Price
$799 (128GB) vs $699 (128GB)
As we can see, the Galaxy S21 is more expensive than the Pixel 5, despite the price cuts by Samsung. However, if you've been keeping an eye on Samsung and carrier deals for Galaxy models, you will know you can often find them with big discounts. For example, big US carriers often offer base Samsung Galaxy S-models for free with select plans (mostly with trade-in). So it is quite reasonable to not hold the higher price of the Galaxy S21 against it.
This year, Google has not released a true flagship per se; however, the Google Pixel 5 is still quite a powerful phone, coming at a more of a mid-range-like price.
Samsung Galaxy S21 vs Google Pixel 5: Design comparison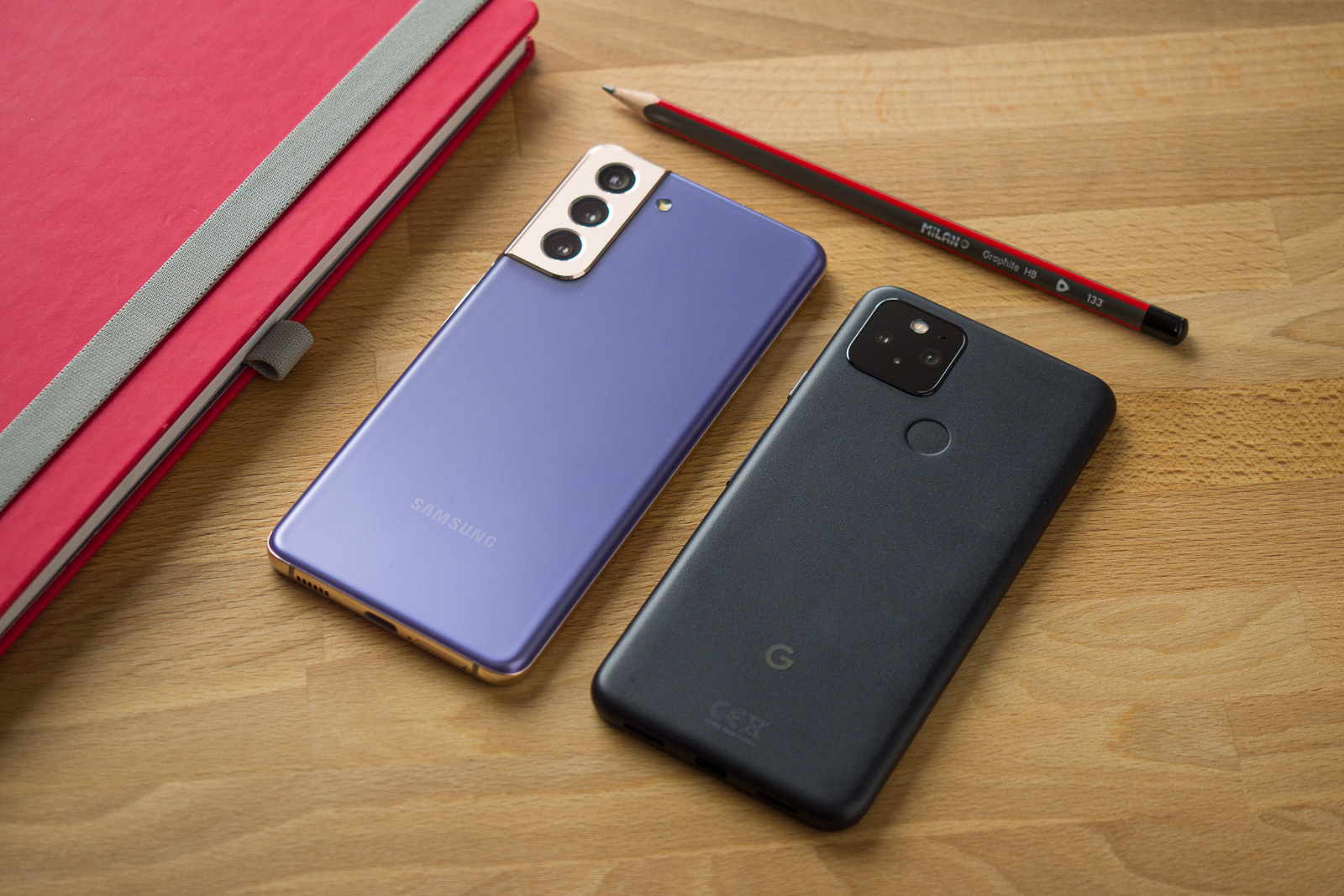 Okay, let's talk about design. First off, the Galaxy S21 has quite an adventurous camera module. Its camera bump is elongated to house a bigger sensor and is now taking even more space on the phone's back. On the front, Samsung has opted for slim and uniform razor-thin bezels and a centered punch-hole for the selfie camera module. The S21 comes with a plastic back, although the interesting colors and design compensate for the lack of glass.
On the other hand, Pixel phones are known for their simple, minimalistic designs and the Pixel 5 doesn't stray from this tendency. It has an aluminum body, covered by a thin plastic layer giving it a matte finish. On the front, the Pixel 5 also has pretty thin bezels (although not as thin as the Galaxy's) and a punch-hole on the left-hand side of the screen. Additionally, its camera bump on the back is noticeably smaller and less pronounced than the one on the Galaxy.
Samsung Galaxy S21 vs Pixel 5: Colors
Galaxy S21 comes in four colors (Black, Violet, Pink, or White) vs two color options for Pixel 5 (Mint Sage or Black)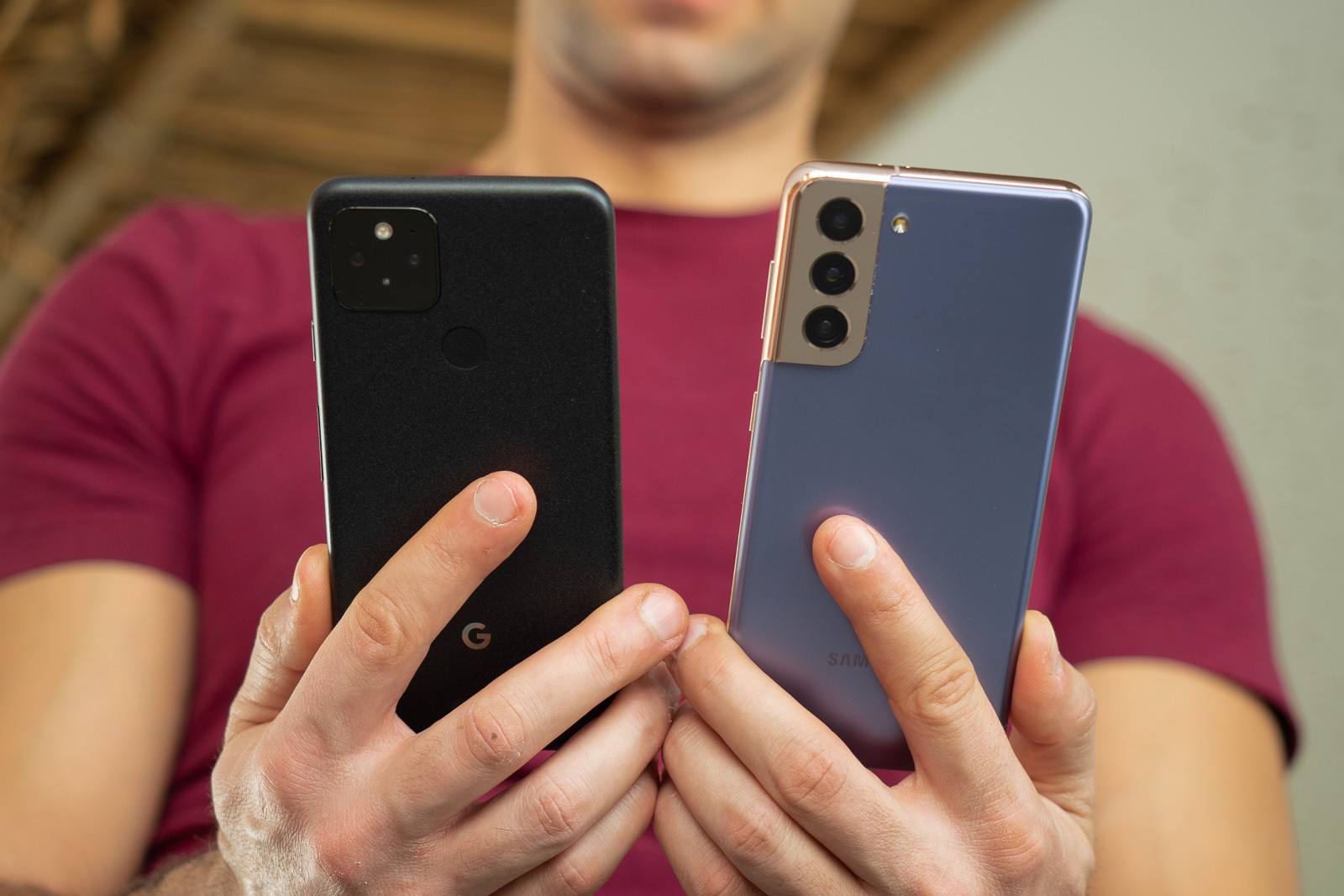 The Galaxy S21 will come in four eye-catching colors: Violet, Grey, White, and Pink, however, special editions could bring even more color options to the S21 series. If you want to read a detailed examination of the colors for this years' Galaxies, check our Galaxy S21 colors article.
As for the
Pixel 5 colors
, it definitely has a more simplistic and minimalistic approach to color and comes in either Sorta Sage or Just Black.
Samsung Galaxy S21 vs Google Pixel 5: Display comparison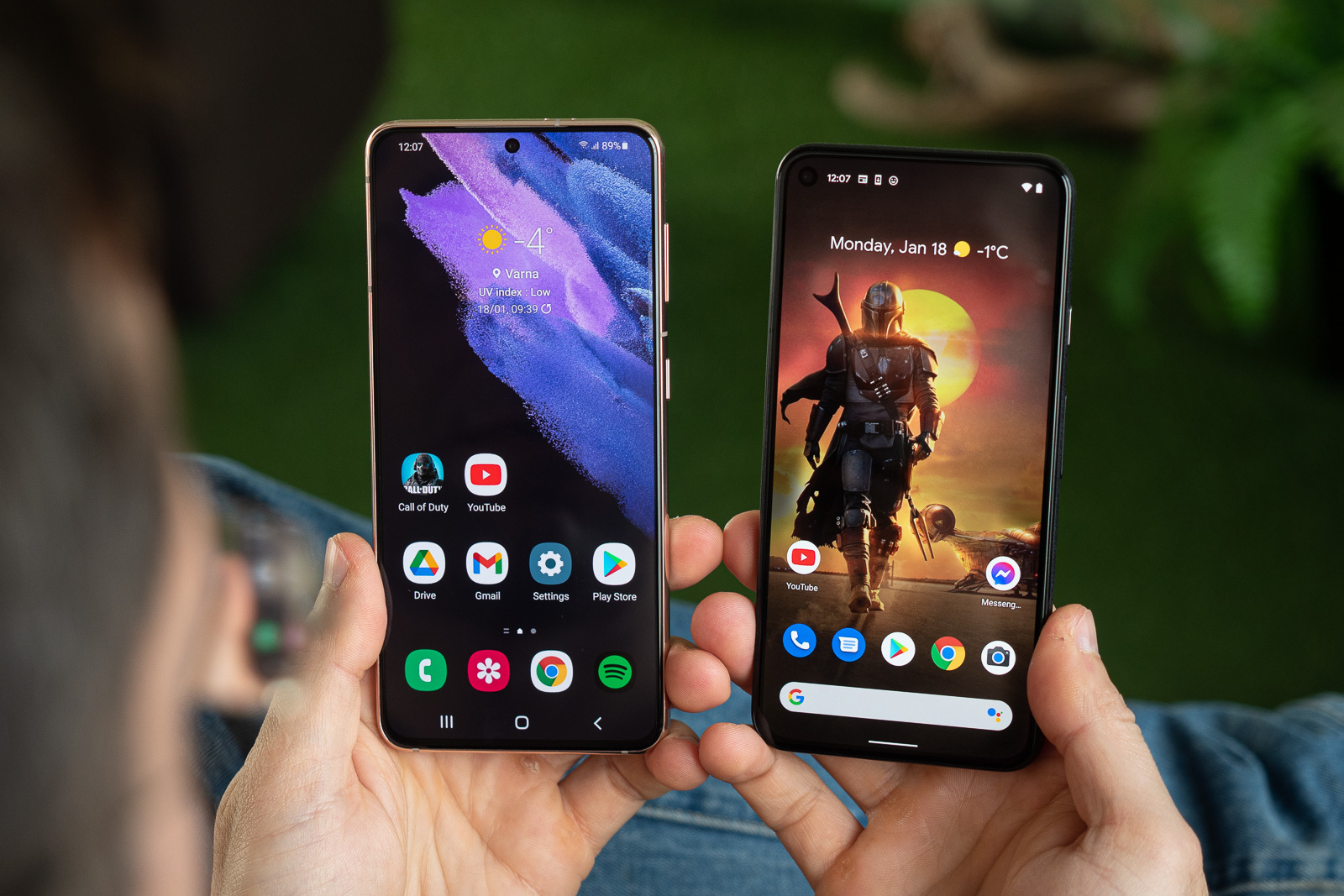 6.2 inch 120Hz Dynamic AMOLED screen vs 6.0 inch 90Hz refresh rate OLED screen
Here, the differences aren't major, at least in terms of display size and resolution. The Galaxy S21 sports a 6.2-inch panel with an adaptive 120Hz refresh rate, and an FHD+ resolution (2400 x 1080 pixels) with a pixel density of 421PPI.
The Pixel 5 has the same FHD+ resolution and a pixel density of 430PPI. This means that, at least on paper, the viewing experience in terms of resolution on both phones should be pretty similar. The Pixel 5 has a 90Hz refresh rate, which is also adaptive, meaning that both phones will drop down the refresh rate depending on what you're visualizing on the screen to save battery life.
Samsung Galaxy S21 vs Google Pixel 5: Specs comparison
Snapdragon 888/Exynos 2100 vs Snapdragon 765G
8GB of RAM for both
128GB internal storage for both, more storage options for the Galaxy
Of course, the Galaxy S21 comes with the flagship 5nm processor by Qualcomm, the Snapdragon 888 (if you live in the States). Galaxy S21 models sold outside the States will be equipped with the Samsung-made Exynos 2100. If you want to know the differences in the performance between the two chips for the Galaxy, you might find our Snapdragon 888 vs Exynos 2100 article interesting.
Google, on the other hand, has opted for a mid-range processor, the Snapdragon 765G, which although not being a Snapdragon 8– processor, is still capable of delivering snappy performance. Both phones support 5G.
In recent years, midrange processors have become more capable of delivering a pleasant everyday experience with a phone. While we were testing the Pixel for our Pixel 5 review, we did not notice any stutter in everyday use.
That being said, the Snapdragon 888 processor on the Galaxy S21 might bring something else to the table with its new 5nm building process, that delivers higher efficiency while draining less battery. Qualcomm says that the 888 chip delivers up to three times performance per watt improvement compared to the 865 in the Galaxy S20, and its Kryo 680 CPU is 25% more power-efficient than the previous generation.
We might be tempted to give this one to the Galaxy, at least on paper. Once we test the phone, we will see whether or not this improvement in processing power is even noticeable in everyday usage.
For multitasking, both phones come with 8GB of RAM, which is more than enough for the majority of people. The Galaxy has a 256GB storage option, as well as a 128GB one, while the Pixel 5 comes only with 128GB of storage.
Samsung Galaxy S21 Plus vs Google Pixel 5: Camera comparison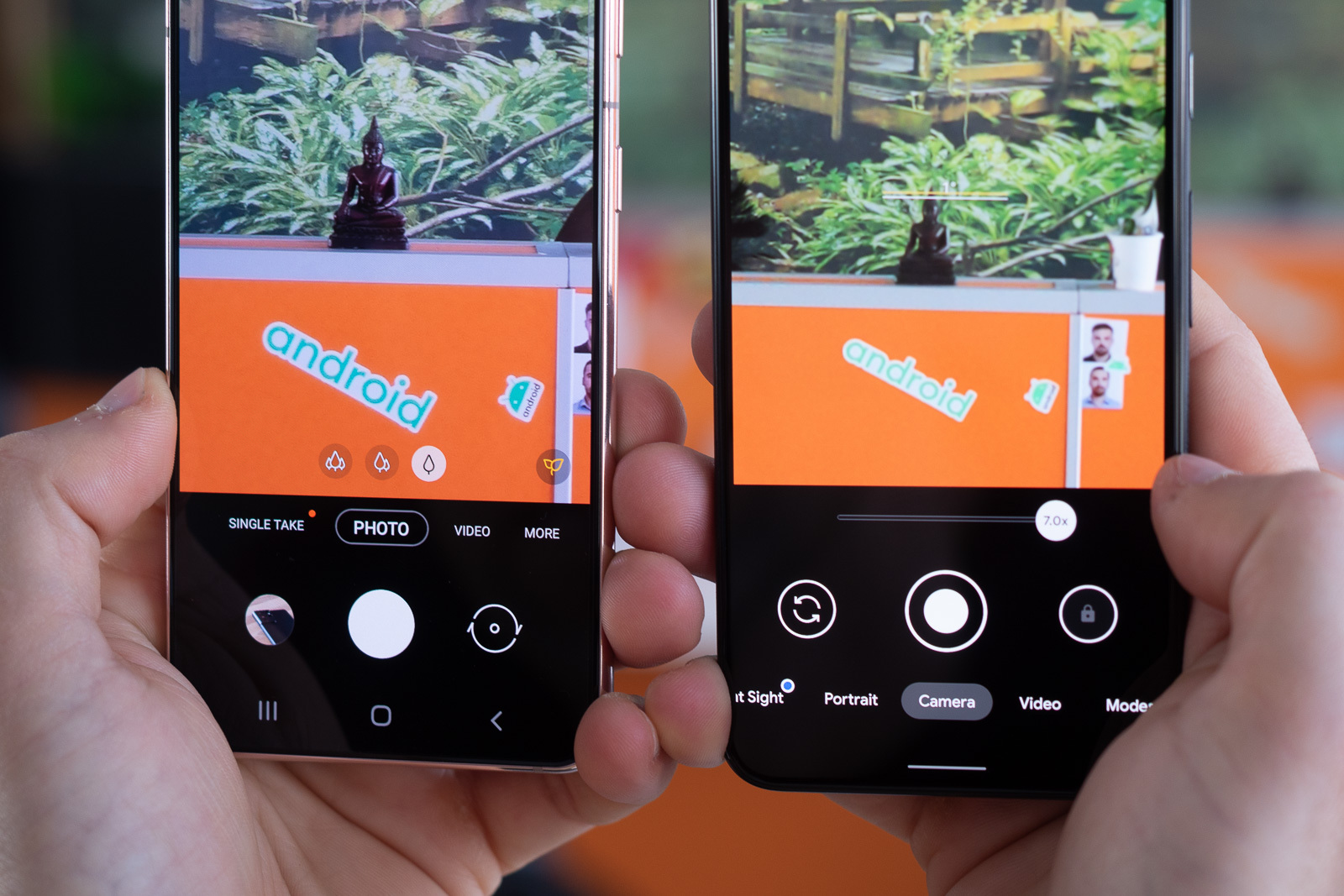 12MP main, 64MP zoom, 12MP ultra-wide vs 12.2MP main, 16MP ultra-wide
It will be interesting to see how the Galaxy S21's camera performs once we test its camera, but at the moment, we can just look at specs and base our assumptions on previous camera performance noticed in Galaxy S-models.
First off, the Galaxy S21's zoom camera does not feature a periscope lens, so keep in mind it will do all zooming digitally. That being said, digital zoom doesn't always mean photos will turn out terrible, so we should wait and see. On the other hand, the Pixel 5 also zooms in digitally, using Google Super Res Zoom technology.
As far as the main camera is concerned, photos from the Google Pixel 5 look amazing, not overly-saturated, crisp, clear, and vivid. Pixel phones are indeed quite famous for their cameras and top-notch image processing software.
Check out some photo samples from the Pixel 5:
There are no major upgrades to the main camera sensor of the Galaxy S21 over this year's S20 (upgrades are mainly coming to the
Galaxy S21 Ultra's camera
). However, the software has been improved, and now you get additional features that will make your photo-taking experience better and more intuitive. However, it might be reasonable to expect the Galaxy S21 will be pretty similar to the Galaxy S20 in terms of photo quality. The Galaxy S20 did quite well with capturing vivid images, realistic colors, and crisp details, so we don't expect to be disappointed by the Galaxy S21 in regards to the camera.
Here are some photo samples from this year's Samsung Galaxy S20:
The Galaxy also has a Director's View now, a cool feature to help you shoot from all of your cameras.
Samsung Galaxy S21 vs Google Pixel 5: battery life and charging speeds
4000mAh vs 4080mAh
25W fast charging vs 18W fast charging
15W wireless charging vs 12W wireless charging
Fast charging, reverse wireless charging on both phones
As you can see, in terms of battery size, both phones are similar on paper, with a slight win for the Galaxy in charging speeds, both wired and wireless. However, the battery life depends on a lot of factors. Google Pixel phones are usually good with power efficiency and this big 4,080mAh battery cell on the Pixel can last up to 48 hours with light usage, while heavy users may get up to a day and a half on a single charge. For the Galaxy S21, we can expect the 120Hz adaptive refresh rate won't hit the battery life as hard as it did for the Galaxy S20, where we have measured that the higher refresh rate reduces the S20's battery life by around 36%.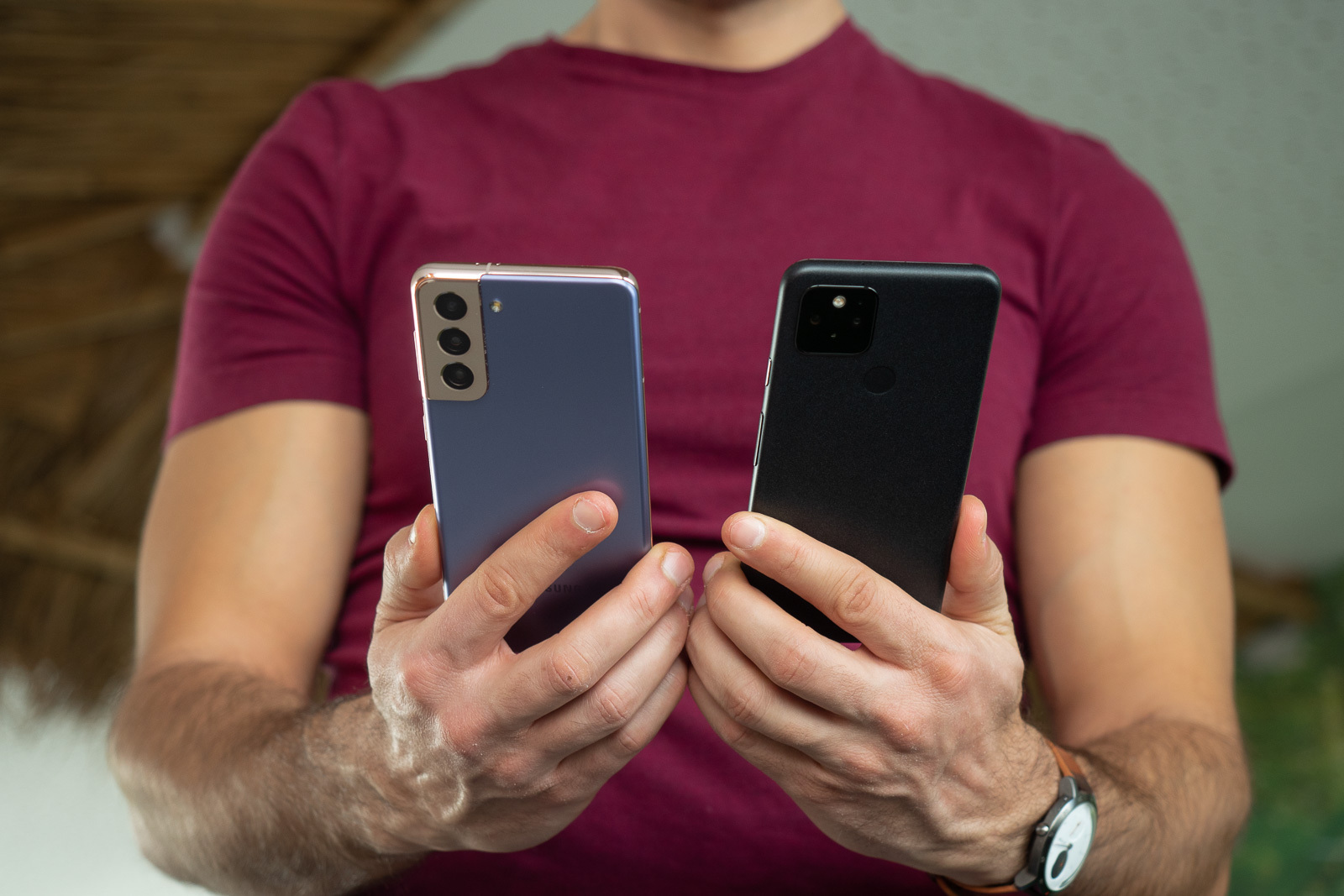 As for charging, the Galaxy S21 will surely beat the Pixel 5 in terms of speed. Both wired and wireless charging speeds of the Galaxy S21 are higher than the Pixel 5's, so at least it may take less time for you to quickly top off the S21's battery. When we get the Galaxy S21, we will test it on our extensive battery life tests, so stay tuned!