Champions League quarter-finals first leg matches gave some high flying games. Yesterday Real Madrid went to Juventus and gave a fantastic display of their masterpiece.The great Portuguese player Ronaldo was top of his game. He scored a brace against Buffon's Juventus.
Ronaldo opened the scoring chart with just 3 minutes of the kickoff with a fantastic pass from Isco converting it to a goal.The Real Madrid number 7 was playing so brilliantly throughout the game.He was very hard to deal with, the Juventus defender was having nightmares during the game to stop Ronaldo.
And in the 64th minute of the game, an overhead kick from the one of the greatest player in this world past Buffon and it was a masterpiece from Cristiano Ronaldo. It was already a goal of the season contender with such a delightful goal this competition has ever seen. Even the Juventus fans stood in the stands and applauded the great goal scored by the current Ballon dor winner. Even Zidane was left surprised and might have thought " What have I just seen".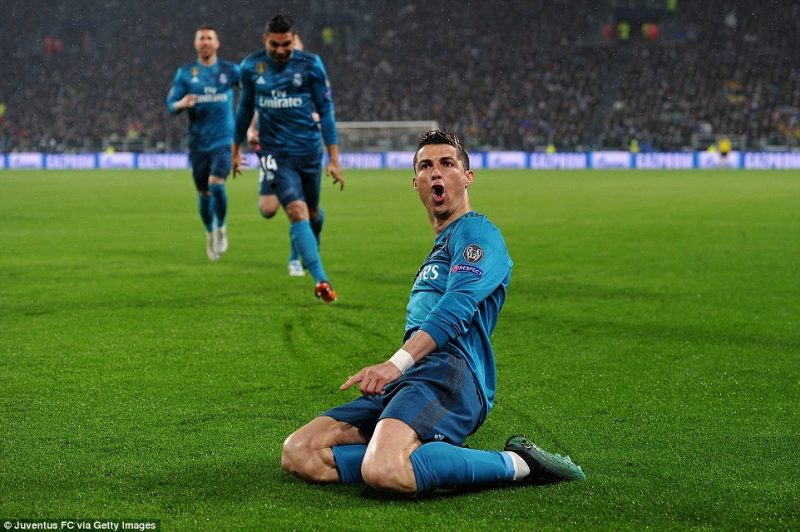 In Ronaldo, he has a player who comes alive in this tournament. Real Madrid are the most successful club in the history of the European Cup and Ronaldo is the competition's all-time leading scorer. It is, indeed, a lethal combination.
He even set up an assist to Marcelo and the scoreline became Juventus 0 – 3 Real Madrid.Madrid defense was rock solid. Sergio Ramos, Varane was so excellent they did sure make that nobody is scoring tonight pass them.
Ronaldo's double took him to 39 goals in all competitions this season – more than any other player in Europe's big five leagues.Ronaldo has now scored nine Champions League goals against Juventus, with no player having scored more goals against a single opponent in the competition.
He becomes the first person to score in 10 consecutive champions league appearance in the history of the competition.He is literally breaking every record which comes in the way and he is increasing the bar year after year.
Will Real Madrid reach the semifinals and go fight for the title and win the competition for 13th time in the history of Champions League? Have your opinion below.