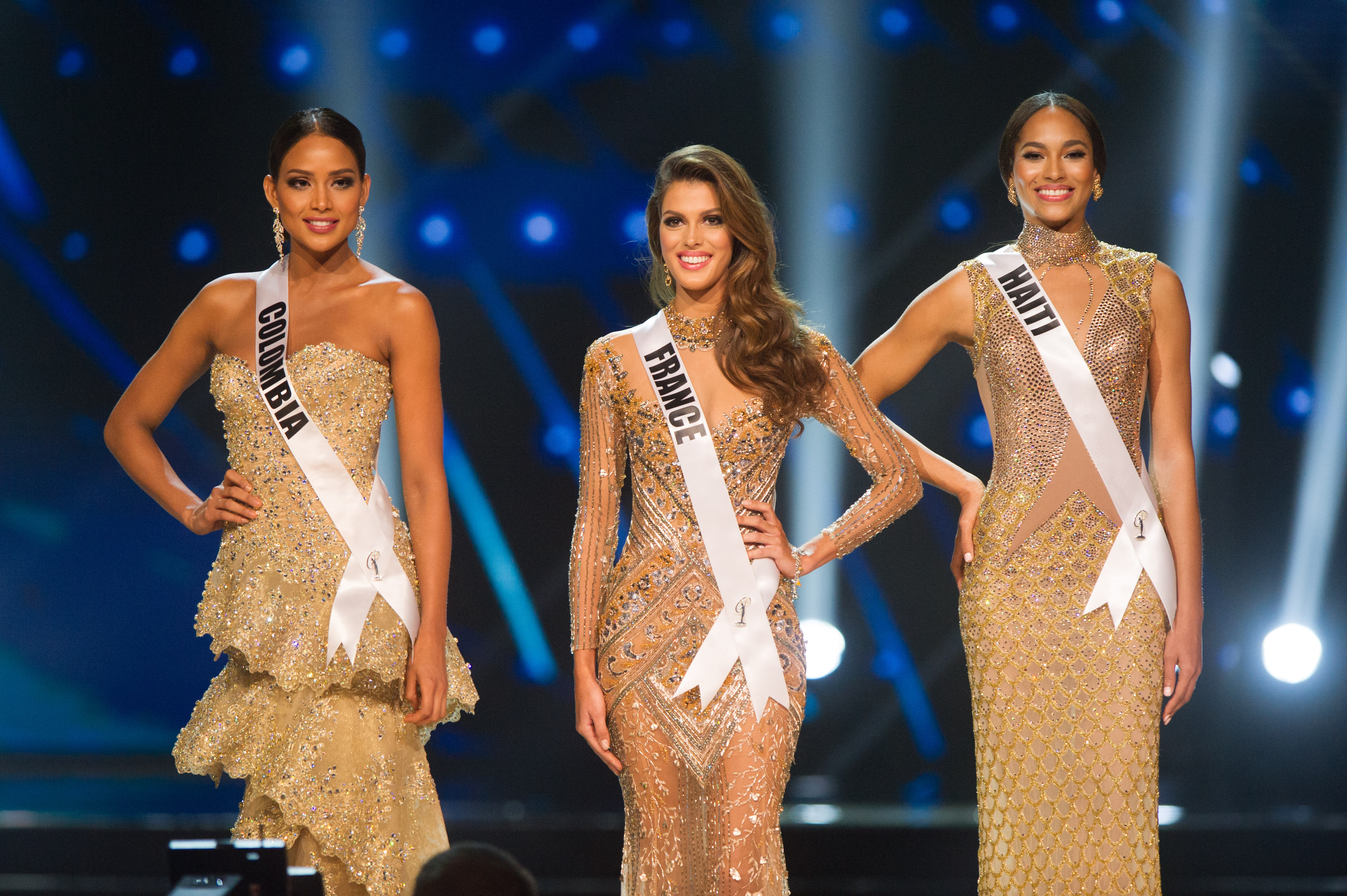 Miss Universe 2018 Participants, Contestants from 94 countries and territories are expected to participate in this year's pageant, surpassing the previous record of 92 contestants in 2017.
Here we present the list of Miss Universe 2018 Contestants from 94 countries; 94 contestants will compete for the title.
According to the organizers, the Miss Universe contest is more than a beauty pageant: women aspiring to become Miss Universe must be intelligent, well-mannered, and cultured. Often a candidate has lost because she did not have a good answer during the question responses rounds; although this section of competition has held less importance during recent pageants than it did in the twentieth century. Delegates also participate in swimsuit and evening gown competitions.
Currently, the final placement of the finalists is determined by a ranked vote, where each judge ranks each of the final three/five candidates, with the contestant posting the lowest cumulative score (thus often, but not necessarily always, the contestant with the most number one votes) becoming the winner. If there is a tie, the higher semifinal scores become decisive.
Miss Universe 2018 participant countries and territories.
| | | | |
| --- | --- | --- | --- |
| Country/Territory | Delegate | Age | Hometown |
|  Albania | Trejsi Sejdini | 18 | Tirana |
|  Angola | Ana Liliana Avião | 24 | Andulo |
|  Argentina | Agustina Pivowarchuk | 22 | Buenos Aires |
|  Armenia | Eliza Muradyan | 25 | Vagharshapat |
|  Aruba | Kimberly Julsing | 20 | Wayaca |
|  Australia | Francesca Hung | 24 | Sydney |
|  Barbados | Meghan Theobalds | 27 | Christ Church |
|  Belgium | Zoé Brunet | 18 | Namur |
|  Belize | Jenelli Fraser | 27 | Belize City |
|  Bolivia | Joyce Prado | 21 | Santa Cruz |
|  Brazil | Mayra Dias | 27 | Manaus |
|  British Virgin Islands | A'yana Keshelle Phillips | 23 | Sea Cows Bay |
|  Bulgaria | Gabriela Topalova | 22 | Plovdiv |
|  Cambodia | Nat Rern | 22 | Kampong Cham |
|  Canada | Marta Stepien | 24 | Windsor |
|  Cayman Islands | Caitlin Tyson | 24 | Bodden Town |
|  Chile | Andrea Díaz | 27[29] | Santiago |
|  China | Meisu Qin | 24 | Anshan |
|  Colombia | Valeria Morales | 20 | Cali |
|  Costa Rica | Natalia Carvajal | 28 | San Jose |
|  Croatia | Mia Pojatina | 23 | Nova Gradiška |
|  Curaçao | Akisha Albert | 23 | Willemstad |
|  Czech Republic | Lea Šteflíčková | 20 | Prague |
|  Denmark | Helena Heuser | 22 | Copenhagen |
|  Dominican Republic | Aldy Bernard | 23 | Laguna Salada |
|  Ecuador | Virginia Limongi | 24 | Portoviejo |
|  Egypt | Nariman Khaled | 22 | Hurghada |
|  El Salvador | Marisela de Montecristo | 26 | San Salvador |
|  Finland | Alina Voronkova | 23 | Helsinki |
|  France | Eva Colas | 22 | Paris |
|  Georgia | Lara Yan | 25 | Telavi |
|  Germany | Celine Willers | 25 | Munich |
|  Ghana | Diata Hoggar | 25 | Tefle |
|  Greece | Ioanna Bella | 22 | Veria |
|  Guam | Athena Su McNinch | 20 | Mangilao |
|  Guatemala | Mariana García | 19 | Guatemala City |
|  Haiti | Samantha Colas | 26 | Port-au-Prince |
|  Honduras | Vanessa Villars | 20 | Santa Bárbara |
|  Hungary | Enikő Kecskès | 21 | Budapest |
|  Iceland | Katrín Lea Elenudóttir | 19 | Reykjavík |
|  India | Nehal Chudasama | 22 | Mumbai |
|  Indonesia | Sonia Fergina Citra | 26 | Bangka Belitung |
|  Israel | Nikol Reznikov | 18 | Afula |
|  Italy | Erica De Matteis | 24 | Rome |
|  Jamaica | Emily Maddison | 19 | Saint Andrew |
|  Japan | Yuumi Kato | 22 | Aichi |
|  Kazakhstan | Sabina Azimbayeva | 18 | Almaty |
|  Kenya | Wabaiya Kariuki | 22 | Nairobi |
|  Kosovo | Zana Berisha | 24 | Suhareke |
|  Kyrgyzstan | Begimay Karybekova | 20 | Bishkek |
|  Laos | On-anong Homsombath | 23 | Vientiane |
|  Lebanon | Maya Reaidy | 23 | Tannourine |
|  Malaysia | Jane Teoh | 21 | Penang |
|  Malta | Francesca Mifsud | 22 | Żejtun |
|  Mauritius | Varsha Ragoobarsing | 28 | Flacq |
|  Mexico | Andrea Toscano | 20 | Manzanillo |
|  Mongolia | Dolgion Delgerjav | 27 | Ulaanbaatar |
|  Myanmar | Hnin Thway Yu Aung | 22 | Yangon |
|  Namibia | Selma Kamanya | 21 | Windhoek |
|  Nepal | Manita Devkota | 23 | Gorkha |
|  Netherlands | Rahima Dirkse | 25 | Rotterdam |
|  New Zealand | Estelle Curd | 27 | Auckland |
|  Nicaragua | Adriana Paniagua | 23 | Chinandega |
|  Nigeria | Aramide Lopez | 21 | Lagos |
|  Norway | Susanne Guttorm | 22 | Karasjok |
|  Panama | Rosa Montezuma | 25 | Alto Caballero |
|  Paraguay | Belén Alderete | 24 | Asunción |
|  Peru | Romina Lozano | 21 | Bellavista |
|  Philippines | Catriona Gray | 24 | Oas |
|  Poland | Magdalena Swat | 27 | Ostrowiec Świętokrzyski |
|  Portugal | Filipa Barroso | 19 | Setúbal |
|  Puerto Rico | Kiara Ortega | 25 | Rincón |
|  Ireland | Grainne Gallanagh | 24 | Buncrana |
|  Russia | Yulia Polyachikhina | 18 | Cheboksary |
|  Saint Lucia | Angella Dalsou | 24 | Castries |
|  Singapore | Zahra Khanum | 23 | Singapore City |
|  Slovakia | Barbora Hanová | 24 | Lučenec |
|  South Africa | Tamaryn Green | 24 | Paarl |
|  Korea | Ji Hyun Baek | 21 | Daegu |
|  Spain | Angela Ponce | 27 | Seville |
|  Sri Lanka | Ornella Gunesekere | 26 | Mount Lavinia |
|  Sweden | Emma Strandberg | 22 | Hallstahammar |
|  Switzerland | Jastina Doreen Riederer | 20 | Spreitenbach |
|  Thailand | Sophida Kanchanarin | 23 | Bangkok |
|  Bahamas | Danielle Grant | 23 | Nassau |
|  Turkey | Tara De Vries | 20 | Istanbul |
|  Ukraine | Karyna Zhosan | 23 | Odessa |
|  Great Britain | Dee-Ann Kentish-Rogers | 25 | Birmingham |
|  United States | Sarah Rose Summers | 24 | Omaha |
|  US Virgin Islands | Aniska Tonge | 27 | Charlotte Amalie |
|  Uruguay | Sofía Marrero | 18 | Canelones |
|  Venezuela | Sthefany Gutiérrez | 19 | Barcelona |
|  Vietnam | H'Hen Niê | 26 | Đắk Lắk |
|  Zambia | Melba Shakabozha | 23 | Lusaka |