Shocking to hear the demise of an extra-ordinary and an amazing actor Irrfan Khan. Soojith Sircar expressed is heartfelt condolence to the actor on Twitter. Soojith tweeted: "My dear friend Irfaan. You fought and fought and fought. I will always be proud of you.. we shall meet again.. condolences to Sutapa and Babil.. you too fought, Sutapa you gave everything possible in this fight. Peace and Om shanti. Irfaan Khan salute."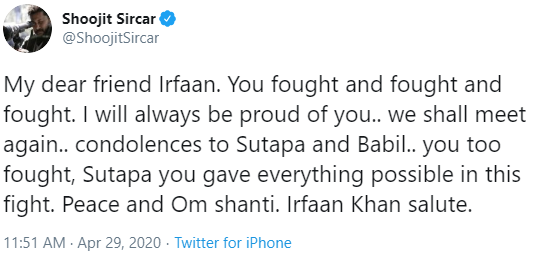 Only a few days back, there had been reports which stated that he attended the funeral of his mother via video conference on April 25. According to the Indian media reports, she died at the age of 95 in Jaipur. He being in Mumbai couldn't attend the funeral due to the corona virus lockdown.
Past few years had been very difficult for him as he was diagnosed with a neuroendocrine tumor in March 2018. So he moved to India to the UK for treatment. Irrfan Khan had undergone treatment abroad for several months in 2019, working only on one project during that time, Angrezi Medium.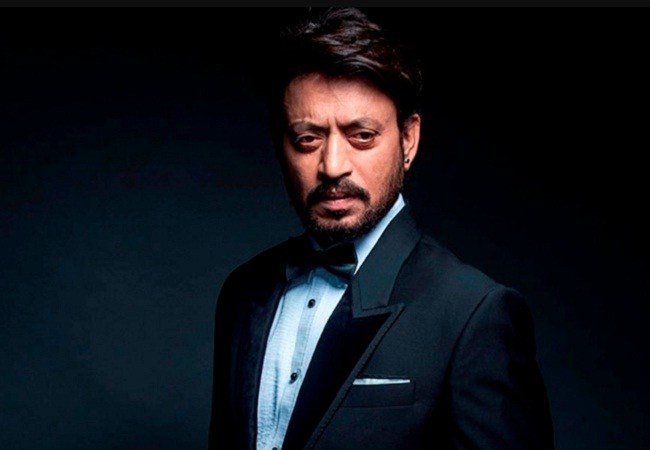 It's saddening on this day that we have to bring forward the news of him passing away. Irrfan Khan was a strong soul and fought till the very end. He inspired everyone who ever came to close to him.
Also Read: Finally Salman Khan Opens Up Regarding Corona or COVID 19