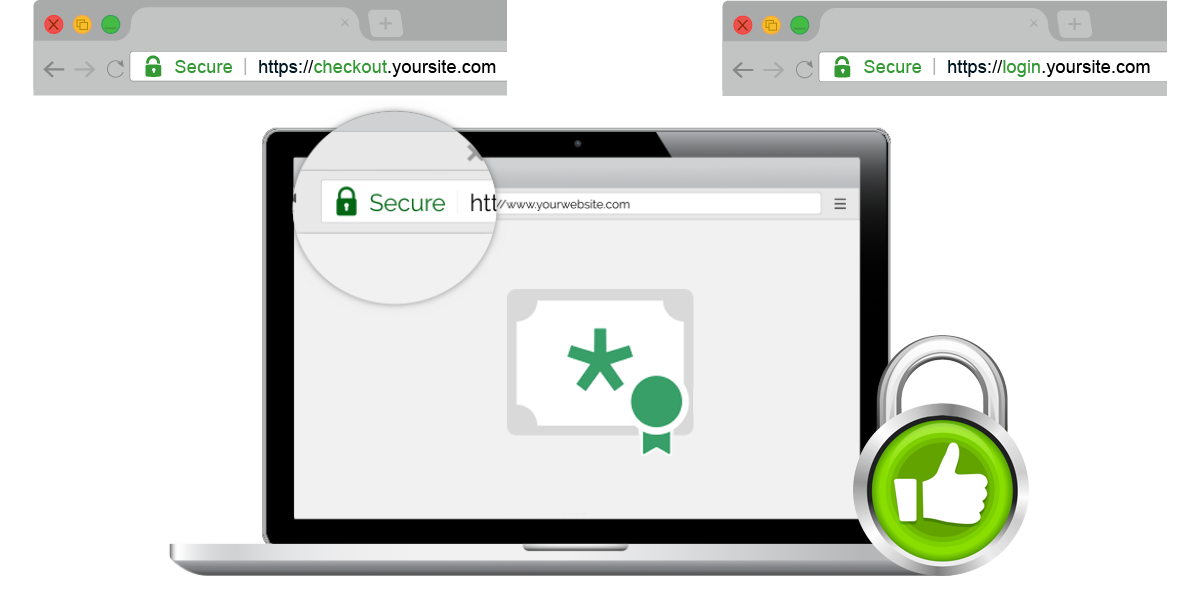 Wildcard SSL Certificates & Its importance to your Online Business
Wildcard SSL Certificates & Its importance to your Online Business. Especially, Security of data transactions must be a priority for online business and you must be aware of hacking activities that have become very common these days. If a business has a website running over HTTPS, then the user can confidently make deal with your site. Now, you must be wondering to know how to prevent a site from data sniffers.
SSL certificate is a key to authenticate & protect the website from all types possible Man-In-The-Middle (MITM) attacks. SSL stands for Secure Socket Layer is a standard security protocol used to establish an encrypted connection between your site and your customers. So, All data transmission will be secured. SSL certificate issued by most popular and trusted Certificate Authorities (CAs) such as Comodo, DigiCert, GeoTrust, RapidSSL etc. CA can follow Domain validation, organization validation, or extended validation to issue a certificate based on your request. If we talk about small businesses, you can buy SSL Certificate directly from Certificate Authority's website or an authorized SSL reseller of CA.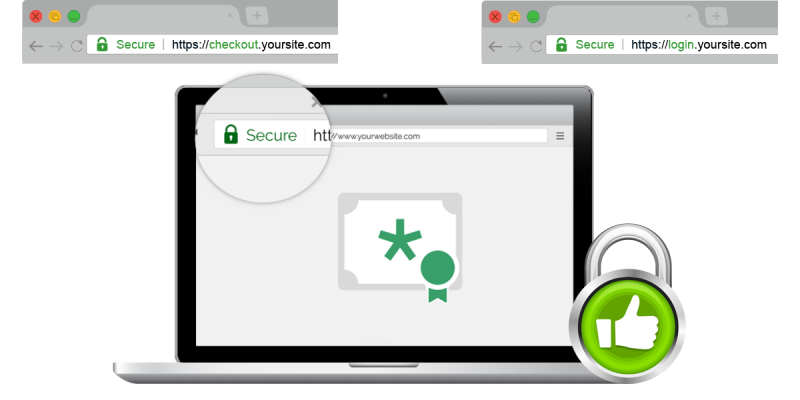 Benefits of using Wildcard SSL Certificates:
SSL certificates will be emailed upon issuance. You need to install it on your server to enable Green Padlock icon, and https:// in the prefix of site URL in browser address bar, which indicates the trust level of a website. Such visual trust indicators ensure the customers that their data to be safe and they do business with the trustworthy site. You can protect your single domain with standard SSL certificate, which issued by domain validation method only.
Now, when it comes to secure multiple domains and/or subdomains, then you can have either Wildcard SSL or SAN/UCC SSL  of trusted certificate authorities. You must have heard about Wildcard SSL, which allows you to add an asterisk (*) in a primary domain name (eg. *.example.com) to secure an unlimited number of sub-domains.
Wildcard certificate will be issued by either domain validation or organization validation method from CA. However, there's a limitation with wildcard SSL certificate that is – the buyer can only secure the level first domain name for the certificate it is bought for. You can get Comodo Wildcard SSL certificate to secure unlimited sub-domains of your main domain instantly and it also helps in saving time and money as well. An authorized SSL Re-seller/provider offers wildcard certificates along with site seal with great offers and discounts to save money.  
Build Customer's trust is an imperative Factor:
When your customer sees the site seal and HTTPS enabled on your site in the address bar, then they will assure that online communication with a website is encrypted. You can gain customer's trust in doing online shopping or transactions safely with your website. Thus your visitor can stay long on your site with the help of SSL certificate. Ultimately, SSL authorizes and grabs their attention, which also amplifies the sales of the website.
Security of your website and Unlimited Sub-domains:
Website with valid SSL certificate helps to enhance the security of the website by providing strong encryption on a connection. Moreover, A reputed & authorized Reseller offers Wildcard SSL certificates that include warranty that ensures further protection. SSL certificate can recognize by most of desktop or mobile web browsers. Wildcard SSL significantly decreases the chances of data being stolen by the third party.
SSL Secured Website looks Clean and Professional:
HTTPS enabled website look more trustworthy, which makes website looks more clean and professional because it showcases the padlock sign in the address bar and the https feature that has all the information about your company. Ultimately, if a website looks more professional the number of customers will attract, which help in increasing revenue of the business.
HTTPS as Google Ranking Signal:
In 2014, Google announced that HTTPS/SSL secured website will give you lightweight ranking benefit in their search algorithm. So, you can get more organic traffic to your business website. Hence, you need to adopt SSL/HTTPS on an entire website including product pages, check out pages, blog contents etc..
Improved Conversion Rates and  Sales:
With the competition soaring high in the online world, it becomes difficult to trust the websites for shopping or etc. However, when you buy any kind of stuff online you try to check the authenticity of the website as in, whether it is genuine or not or are they showing any fake signals etc., especially when the website collects credit card details or any other sensitive data. However, when SSL is installed this issue gets solved and trust levels get build up, which in turn increases the sales.