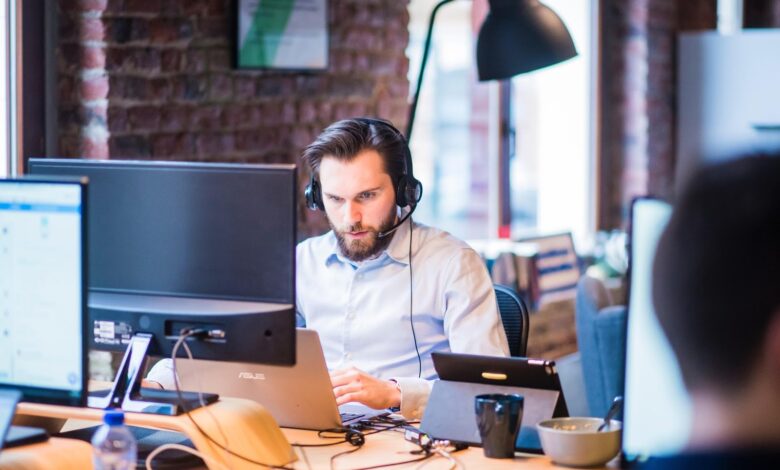 IT is pervasive; it no longer occupies a single department but all of them. It's present in sales through CRM, in finance through accounting software, along with logistics through ERP, just to mention a few.
IT is an essential business function that needs its staff and resources. The IT department will be responsible for keeping the business's data safe, it's infrastructure efficient, and making sure the software is operating at its peak.
Why Consider Creating an IT Department? 
Tech is a difference-maker in today's business world. When businesses look at the available technology, the options can be confusing because there are a lot. Having IT expertise in your business ensures that you have the talent to leverage technology. IT personnel will be pivotal in evaluating tech options, maintaining the technology, training staff, and providing primary support to staff. Your department possesses excellent capabilities when it is equipped with the best wireless site survey tools available.
An IT team can have the following functions in your business:
Governance–

Implement operational parameters for the company as well as individuals. It will be the IT team that is astute in matters of security, privacy laws, and data regulations.



Infrastructure Maintenance–

Hardware components, network, circuit boards, and other equipment need to be cleaned, updated, and sometimes replaced.

Technology Management–

The IT team will be best suited to create and maintain operating systems along with the application. Their tasks will include developing, securing, and storing electronic data that belongs to your small business. Also, they assist in the use of software and data management in all areas of the company.
What Are Common IT Team Responsibilities? 
Your business is bombarded continuously with new technology. You need the expertise and experience of IT personnel to sift through the options. Here are some typical IT roles and their responsibilities;
Network Administration–

Having more than one computer and office device needs a network so that they can all talk to each other. A network administrator builds and maintains that network.

Device Management–

Responsibilities are to design and support hardware, software along with cloud services for all devices. They are also required to help deploy, manage, track, and audit devices.

Network Maintenance–

Responsibilities range from monitoring the network, resolving network issues, network security, planning for growth, and installing and configuring products.

Application Development–

They are responsible for the conceptualization, planning, design, development, launch, and maintenance of applications.

Security Analyst and Management–

Usually have mid-level experience. Their expertise covers firewalls, Linux, anti-virus, and VAPT. They are also responsible for training other staff on IT security along with escalating security incidents.

Program Management–

Organizing the installation and maintenance of programs around the goals of the business.

Technical Support–

Maintains and monitors the business' computer systems and network. They diagnose and repair faults in the complete system. They are also responsible for hardware and software installations.

Repair Technicians–

Have responsibilities that include maintaining servers, fixing computers, troubleshooting errors, and maintaining Internet connectivity. 

Data Collection and Management– 

Every digital device, along with the software it uses logs data. Data collection and management are jobs that are important for performance analysis and regulatory compliance.



Information Security Management–

Is responsible for the IT security infrastructure of the business. They formulate strategies to prevent security breaches and develop security protocols to protect the business' data.

Customer Relations Management–

The link between the company and the customer. Their prime objective is customer satisfaction and to formulate plans to achieve that goal.
What are the Benefits of Hiring an IT Team?
Having your own IT team can be a worthwhile investment. They can provide:
In-house expertise




Install, implement and maintain computers, network, and servers

Install discipline data backup protocols

Secure and store data

Keep hardware and software upgrades to date and in sync 

Clean and maintain equipment

Provide support and training to other staff members

Gear your IT investments towards your goals and objectives

Fix problems before they become a more significant issue and ensure that all systems are running at optimum levels

Recognize technology that could improve your business
What Could Happen if You Don't Have an IT Team?
Not investing in an IT team can be detrimental to your business. Think about all the technology that is present in your business, all the partners and customers you link up with using technology. All of the technology is good for your business, but if not professionally managed, it can have direct, negative consequences. Here are a few scenarios of what could go wrong:
All your business's data, along with that of your customers, could be compromised. Security breaches have immediate costs to fix, tarnish your brand, open your business up to litigation, and make your business liable to regulatory fines.

Customers and business partners receive and transfer data with your business. If your IT infrastructure is compromised, it can be used as a conduit to attack your business partners and customers.

Malware such as phishing scams, viruses, and

ransomware

are becoming more sophisticated. Without a dedicated team to monitor your IT security, your business is vulnerable.

Technology is excellent, but it isn't perfect. There will be occasions when computer freeze or applications are not running as they should, that's when you will appreciate in house expertise.

Making hardware and software work together can be a time consuming and extensive process. Taking non-IT staff away from their regular tasks to try and figure out that technology will affect productivity.
There is a myriad of potential scenarios that could play out within your business that would require expertise. A well equipped IT team, along with a local IT support company, can tackle any issue that may arise and save you time and money in the long run.
Get IT Right, Get a Team
Having an IT team at your disposal is vital in a highly wired and connected society. They can keep the IT infrastructure performing well and fix problems quickly. Considering its reach, the IT team is an essential department.