Beauty
Trending
4 Tips for Finding The Wedding Dress Of Your Dreams in 6 Months or Less
Many dress designers consider six months to be minimum amount of time needed to process a custom gown order.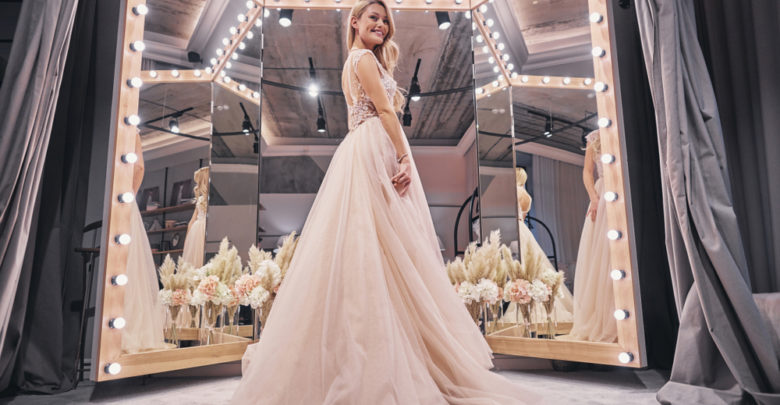 Aside from your wedding or engagement ring, your gown is likely the most important purchase you'll make for your wedding. Many dress designers consider six months to be minimum amount of time needed to process a custom gown order. However, it's still perfectly feasible to go through the process in much less time. From start to finish, here are four ways to find your perfect wedding gown in less than six months.
1. Narrow Down Design Options
Before you start collecting quotes and searching for vendors, you should have an idea of what you're looking for. Different styles can greatly impact the amount of time needed to complete your dress order, as well as the price you can expect to pay.
Do you want something more sleek and minimalist, or are you looking for a grandiose gown fit for a princess? Research popular styles, and look for a few different examples of dresses you'd like to try.
2. Set Your Budget
The next main thing you need to consider is how much money you want to set aside for your wedding dress. This will allow you to create your list of potential designers, salons, or consignment shops. You should also account for alterations and accessories, such as shoes and your "something blue."
A custom-made dress will likely be considerably more expensive than finding something off the rack. Keep this in mind if you plan on going this route. You will use your budget to create a short list of potential vendors, since the cost of different wedding gowns can easily vary by thousands of dollars.
Since the style of your dress can significantly impact the cost, do some quick research to find out what could be available in your price range. Also, many designers require a deposit of at least half the total cost of your dress. Consider these factors when you create your short list of vendors.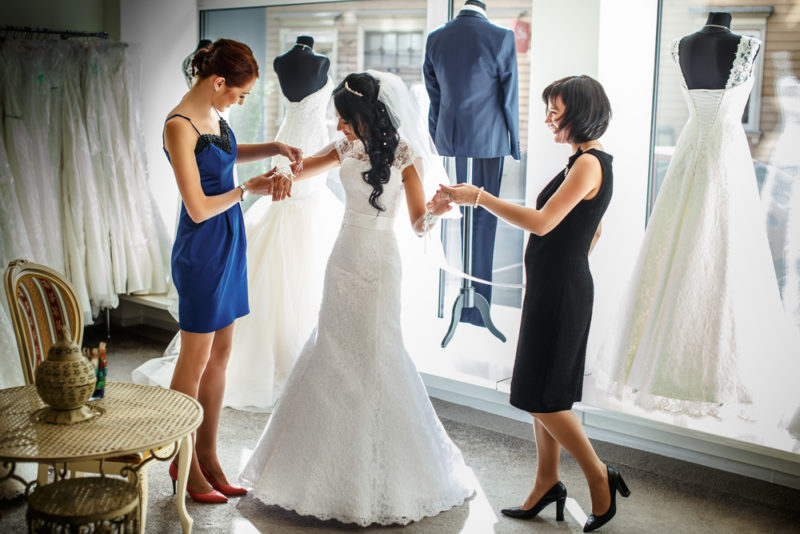 3. Research Designers and Consider RTW Options
Even if you only have a few months until your big day, you can still commission a custom-made gown if you find the right designer.
If you'd rather leave with your purchase as soon as you find "the one," don't underestimate ready-to-wear options. Bring a friend or two, and schedule a day of appointments at your favorite bridal shops to see what they have available on site.
Buying a ready-made gown can allow you to find your dream dress in a fraction of the time it would take for a custom garment. You can also shave hundreds, or thousands, from the cost by opting to buy one of the display dresses at a local sample sale.
4. Schedule Delivery and Alterations
Whether you order your dress from a designer, online store, or overseas vendor, consider the amount of time it'll will take to arrive. A beautiful dress is going to fall flat if it doesn't fit like a glove, so make sure you have enough time to schedule a fitting with your bridal salon or take it to a tailor.
Depending on the amount of work you need to be done, you could expect alterations to take anywhere from a week to three months. To be on the safe side, make sure your dress is in your hands no less than three months before your wedding.
Finding the perfect dress might seem overwhelming, but a bit of research and a clear action plan will help you navigate through the process. Regardless of your ideal style or budget, you could be just a few weeks away from holding the wedding gown of your dreams.