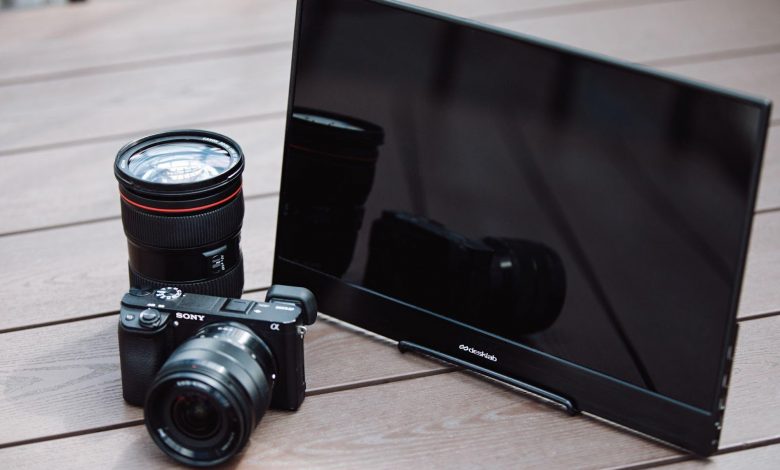 Whether you're a PC or console gamer, you could use a portable monitor to improve your experience. The extra screen can help you prevail in competitive games and make your sessions more immersive.
However, finding the right portable monitor can be challenging as there are many products available. To help narrow down the choice, we'll present a review of Desklab, often considered the best gaming monitor of 2022. Here's a breakdown of its crucial features.
Industry-Topping Display Quality
Only the best gaming monitor can make your video games more realistic, and Desklab lives up to expectations. This 4K model enhances the sharpness and depth of your characters and background while immersing you with accurate colors. Plus, the extra pixels help generate clearer images.
Another great thing about the screen is the true LED backlighting to enhance the brightness of this 4K gaming monitor. Supported by a convenient contrast ratio (1200:1), it keeps your games from getting too bright or too dim.
Gaming-Optimized Brightness and Response Time
Another reason Desklab is regarded as the best portable gaming monitor is its excellent brightness. The display is twice as bright as most other monitors, making it perfect for various conditions. Besides playing in the dark, you should be able to enjoy your favorite games in daylight without any issues.
Complementing the resolution, LED backlighting, and terrific brightness is the minimal response time. At just 10 milliseconds, it rivals many laptops and desktop computers. As a result, your gaming sessions will be lag-free, allowing you to outperform your enemies.

Much-Needed Eye Protection
Casual gamers are generally less susceptible to eye strain, which doesn't suit avid users. Fortunately, Desklab helps mitigate this risk with a powerful low-flicker, anti-glare, and low blue light filter. It shields your eyes from damage during extended sessions, enabling you to play more safely.
Turning Your Smartphone Into a Robust Gaming Device
State-of-the-art smartphones can support demanding video games, but they can be inadequate due to their small screen. Consequently, your performance plummets, but you can solve this issue with Desklab.
This gadget gives you a full-sized gaming experience on your Android or iPhone, making it feel like a computer. Just connect it with a USB, and your best-loved games will come to life on a 4K 15.6-inch crystal-clear display.

Supporting Even More Devices
Your smartphone isn't the only gadget compatible with this portable monitor. On the contrary, you can pair it up with virtually any device because it's a universal model. Apart from tablets and desktop computers, it also works great with your Xbox, PS4, and Nintendo Switch.
The monitor's compatibility extends to several operating systems, too. Whether you're a Windows, iOS, or Linux user, you'll have no problem connecting to this product.
Convenience
Desktop computers can support next-gen video games without a hitch, but this doesn't mean they're perfect. Mobility is their biggest downside, restricting you to just one location. But this won't be an issue with Desklab by your side.
As previously mentioned, the gadget is compatible with numerous portable devices, such as laptops, smartphones, and tablets. You can carry them anywhere with your portable monitor and connect them within seconds to enjoy some blood-pumping action.
Minimal Setup Requirements
Many portable monitors are a nightmare to set up. They usually require a myriad of cables and adapters that drastically hinder their portability.
However, that's not the case with the best 4K gaming monitor. You need only connect your device with a USB-C, and your game will be ready immediately. There's no heavy-duty or additional software involved, ensuring a seamless setup.
Charging Capabilities
Gaming with a portable monitor can quickly consume the battery of the connected device. If there's no socket in sight, just plug it into this 4K monitor. It'll charge the gadget relatively fast, enabling you to keep gaming.

Integrated High-Quality Speakers
No gaming session is complete without satisfying sound. The robust 4K monitor meets this requirement with dual Hi-Fi speakers. They produce clear sounds to fully immerse you while blasting enemies or exploring fascinating worlds. Still, you can take the audio to the next level by connecting your headphones.
Simple Yet Effective Tweaks
Default settings don't always match your gaming preferences. The manufacturers of this portable monitor recognized this problem and incorporated various customization options. For example, you can change the volume, contrast, brightness, and sharpness to optimize your sessions. They can be accessed manually for extra convenience.
Top-Quality Tech Product
It's easy to see why Desklab is touted as the best gaming portable monitor of 2022. The display combines a wide range of robust features, such as 4K resolution, LED backlighting, excellent brightness, and eye protection. Furthermore, the product is compatible with a variety of products, and setting them up is a cakewalk.
To find out more about this portable monitor, check out www.desklabmonitor.com.